Category : Marketing
Posted on :

Oct 21, 2018

Views :

1,264

By :

Ingavar J.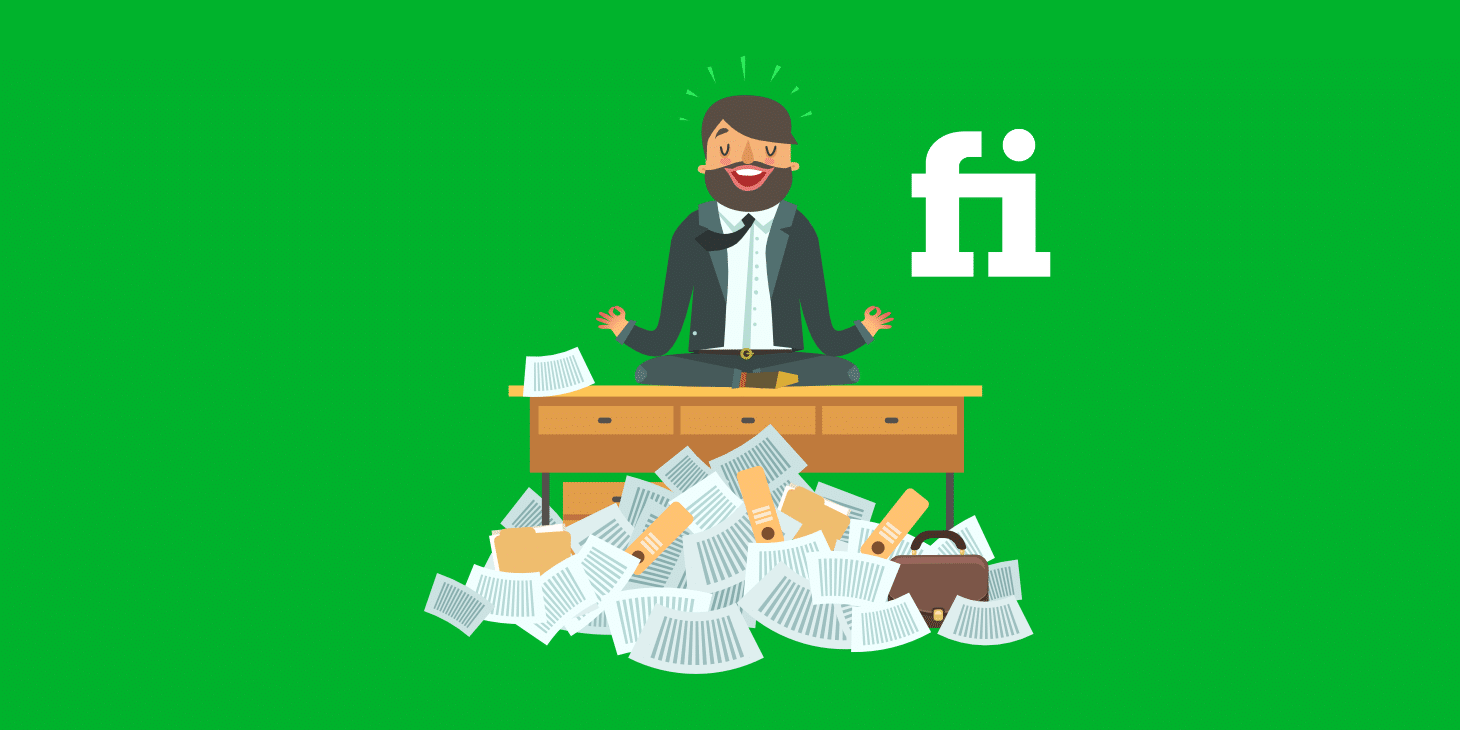 Fiverr gets a bad rap—especially from freelancers. The platform has a somewhat negative association with this group because they feel pressured to create services that can be sold starting at $5. To be sure, a lot has changed since the marketplace's initial inception—including the need for pricing that starts at $5.
Even if you're not looking for help as a business, you can use Fiverr to get a lot of interesting and downright weird services for fun. Like Groupon, the platform is a discovery engine for things you may not have realized you wanted. This can be a double-edged sword if you are addicted to shopping!
I've been using Fiverr for many years now, both as a seller and more recently as a buyer, too. I've made over $10,000 on the platform and have also re-invested several thousand dollars back into Fiverr buying services from freelancers on their marketplace.
In both situations, I've created win-win situations for myself, people who buy my services, and those who I purchase services from. CodeinWP shares their own tips for buying services from Fiverr but I think there's more to say.
Let's start this discussion about how to use Fiverr with why your current perception of Fiverr is probably wrong.
The Pros of Using Fiverr
First and most importantly, it's no longer a requirement to start Fiverr orders at the low selling price of $5. For freelancers, this means no longer having to break down services into small components to try to make it worth it—you can build out packages worth hundreds of dollars (or more!).
In an effort to attract more expert freelancers to the platform, Fiverr recently announced a new version of their marketplace: Fiverr Pro. Unlike Fiverr sellers on the main version of the marketplace, Fiverr Pro sellers are individually vetted by Fiverr employees. The end result? On-demand access to freelancers with a track record of results for brands that you're probably familiar with.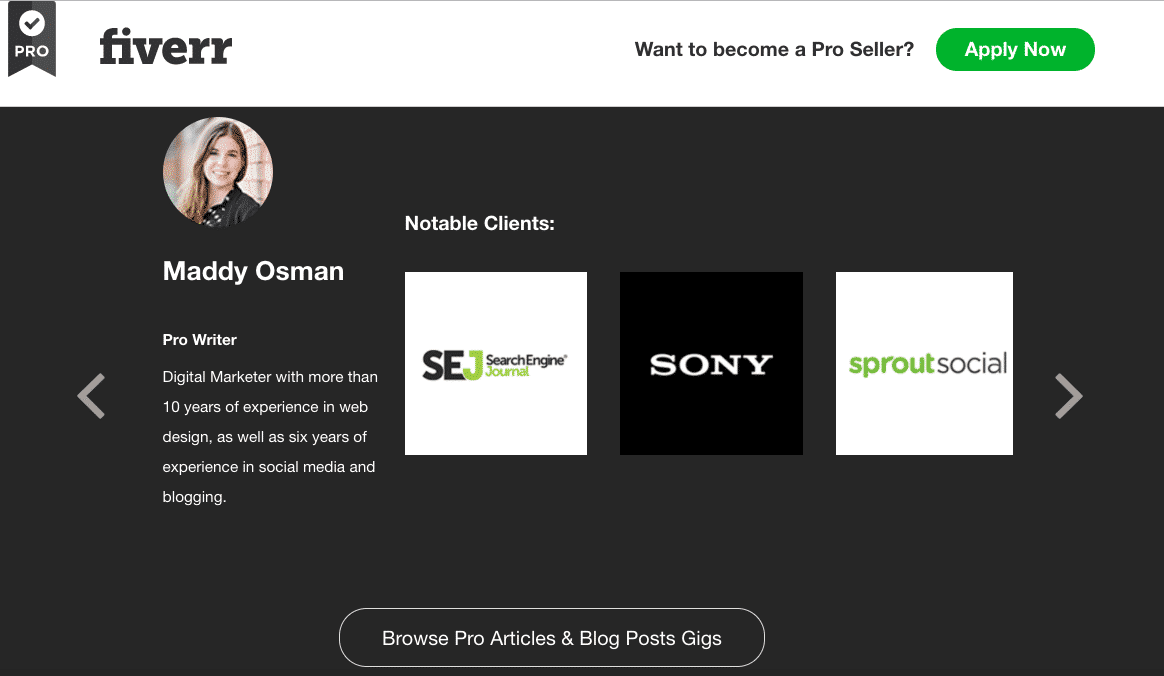 And if you're still not convinced that Fiverr cares about their freelancers, consider their recent acquisition of AND CO.
AND CO is an all-in-one business management tool for freelancers, including functionality for creating contracts, tracking time, and managing expenses. As of Fiverr's acquisition of AND CO, freelancers have unlimited FREE access to tools that were previously gated by a paid monthly membership.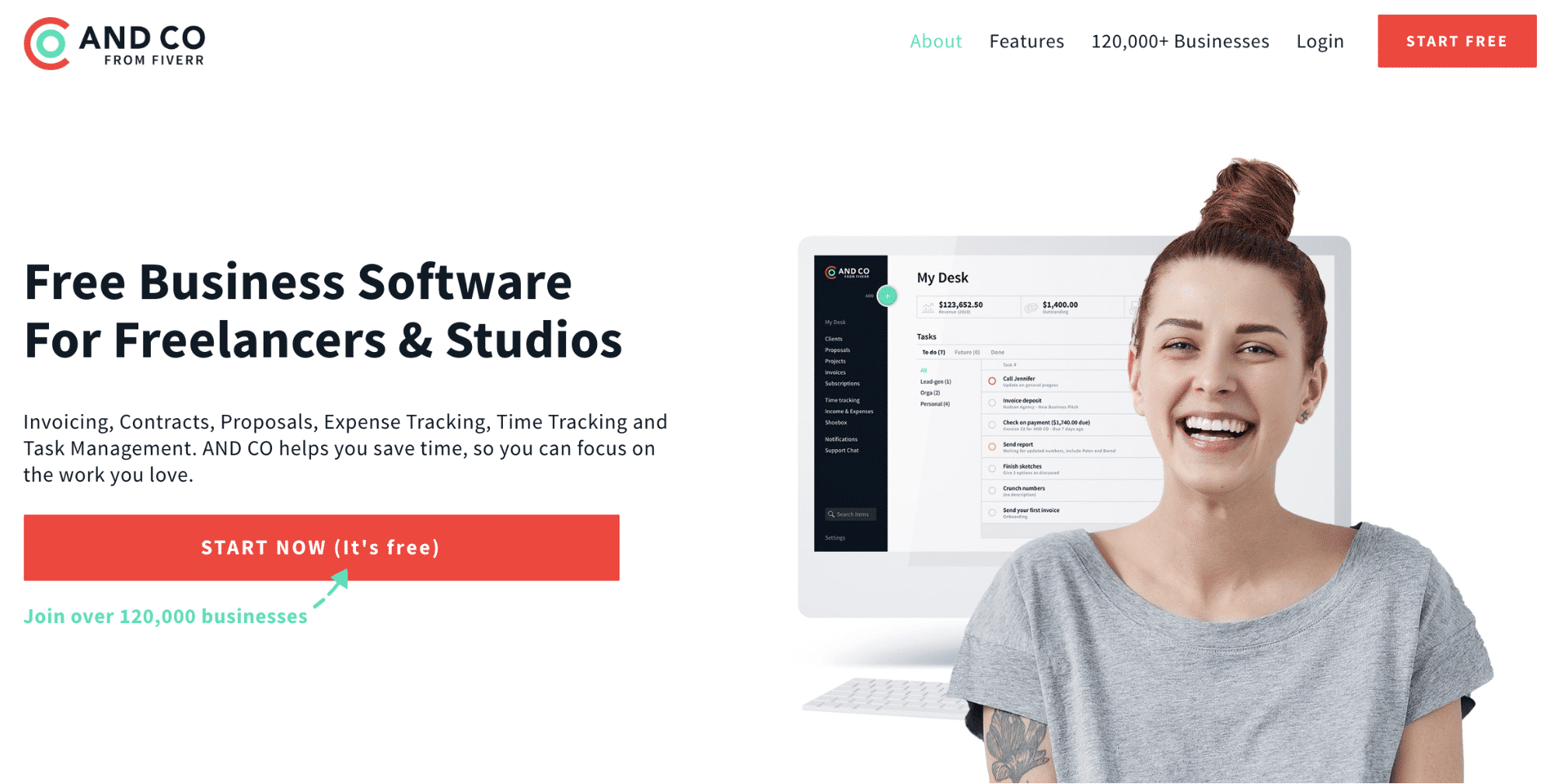 You don't even have to be a Fiverr seller (or buyer) to use these tools—they're now free for everyone.
Yes, there are still Fiverr gigs that start at $5. Many of these low-cost gigs are attributed to sellers from areas of the world with low costs of living.
While you might have ethical issues with outsourcing work that takes away from your own country's prosperity, I see it as the chance to help people all over the world gain equal access to the hustle. Some of my favorite Fiverr sellers gush to me about how important Fiverr is for putting food on the table for their families—that's definitely worth supporting.
What to Outsource on Fiverr
Next up in our discussion of how to use Fiverr: an introduction to the gig economy. Fiverr's marketplace offers a wide range of services, packaged as "gigs".
Gigs tend to be one-off projects but Fiverr's system also offers functionality for multiple "milestone" deliveries. This means that a freelancer could effectively use Fiverr to create retainer services, though that's not necessarily the norm.
There are some gigs that you can buy on Fiverr that are inherently bad for business, which we'll discuss later on in this article.
On a more positive note, here are major gig categories that are oftentimes quite a steal on Fiverr:
Graphic Design (I work with a character designer to come up with t-shirt designs for my ecommerce business.)
Digital Marketing (I hired a Fiverr seller to help me configure some advanced functionality on Mailchimp.)
Social Media
Video Editing/Production
WordPress tasks
Writing/Proofreading
Data Entry
Minimalist Logo Design (there are some talented logo designers on Fiverr if you look hard enough. Check out how Woorkup got their blog's logo outsourced.)
Fiverr's PR team shares that the following gigs are on the rise (already having high demand prior to this point) going into Q1 of 2018 from Q4 of 2017:
Live Action Explainers (507% rise)
Short Video Ads (154% rise) and Video Ad Campaigns (88% rise)
Influencer Marketing: Strategy & Research (103% rise)
E-Commerce Marketing: Product Listings (91% rise)
Gaming: creating games or hosting Twitch channels (70% rise)
Mobile Apps & Web: Convert Site to App (62% rise)
WordPress: Landing Page (60% rise)
Presentations (52% rise)
Branding Services (47% rise)
If you're still not sure where to start with how to use Fiverr to help your business, grab inspiration from Sitepoint's insights into how Fiverr gigs save them thousands each month.
How to Delegate on Fiverr
My main rule of thumb with success on this platform is to come in with a strategy.
Specifically, you should have a clear idea of what success looks like and how to get there. You should also know what failure looks like and how to get there.
In general, you want to use Fiverr to help you complete tasks—not define your overall strategy. In this way, you'll be able to effectively judge success upon the completion of your order.
But even if you know what you want, it can be hard to communicate effectively if you don't have much experience with delegation.
It helps to come in knowing how and why to delegate. As a general rule of thumb, consider delegating tasks that are:
Time-consuming: like data entry.
Low value: like scheduling social media.
Specialty/occasional needs: like tax preparation.
Figuring out how to use Fiverr is especially helpful with regards to the first two task categories. As an entrepreneur, you may be tempted to stay busy to support your "hustle" mindset.
But being busy isn't a badge of honor.
With a little introspection, you'll likely uncover many tasks that you could be delegating without hurting your profitability. After all, successful delegating frees up time and energy to do more of the work you love to do (and get paid for!). On that note, outsourcing low value and time-consuming tasks to Fiverr makes it so that you can focus on the things that only YOU can do.
Keep this delegation framework in mind when deciding which tasks to outsource to Fiverr—especially when determining what isn't a good task to outsource.
How to Use Fiverr: Communicating with a Seller
As a general rule, make sure to contact a seller before placing an order, especially if what you want seems even slightly outside the scope of their gig (or different than their standard package options).
Once you've decided on the scope of the order, there are a few additional steps you must take to ensure an ideal final product:
Fill out all order requirements. Don't be tempted to skip these things, even if you've already started a dialog with the seller. Repeat everything in the order so that it's easily referenceable for your seller while they're completing work for you. Fully answer every question so that there's no question about what you're looking for when the seller delivers the order.
Provide resources that look like what your final project should look like. You might reference a competitor who's killing it (with the stipulation that you don't want to directly copy them!) or another project example that you love. Either way, you're providing your seller with a baseline expectation of quality in the final delivery.
Encourage questions. Fiverr sellers do the best they can with the information you give them. Make it easier for them to give you what you want by encouraging a dialog throughout the length of the gig. Without inviting questions, sellers may be hesitant to ask, for fear of annoying you.
If working with a Fiverr seller means granting them access to sensitive account information, use password management tools like 1Password or LastPass to manage access. By encrypting login information and setting permissions for access, you can easily cut off a Fiverr seller if they have less than pure intentions or if you suspect that might happen as the result of your communications with an order.
What Not to Outsource on Fiverr
I've said it before but it bears repeating: use Fiverr to outsource tasks, not strategy.
In addition to this advice, here are a few recommendations for what not to outsource on Fiverr and gig categories to avoid all together:
SEO tasks: Unfortunately when it comes to SEO work, Fiverr doesn't have the best reputation. You'll definitely want to avoid gigs promising first page Google rankings or link building. In these situations, sellers justify low prices with black hat tactics. These black hat tactics may appear to work in the short-term but are going to cost you more money and will be pain to fix long-term. Buying SEO content is OK, just make sure to pass through Copyscape before accepting delivery.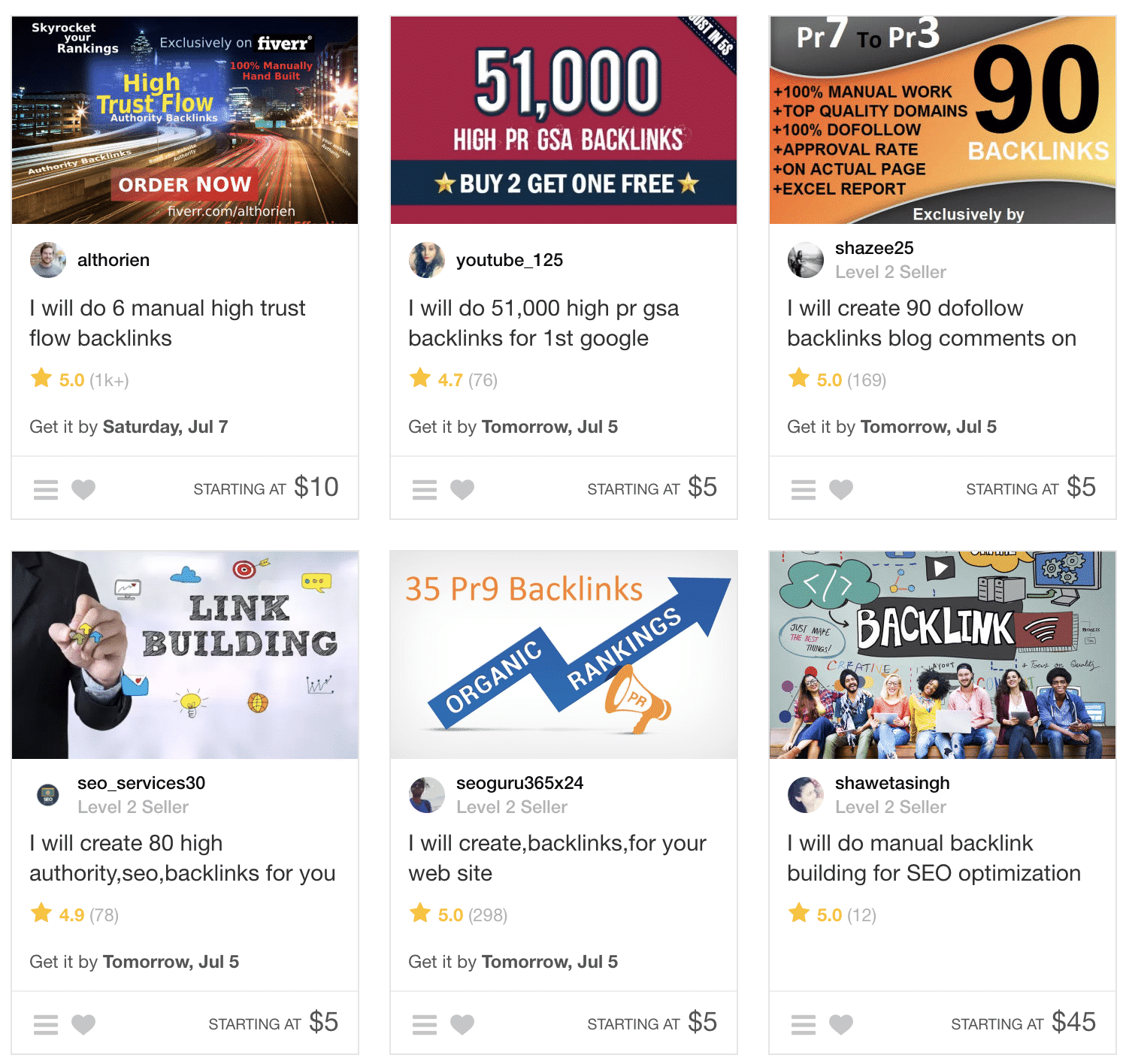 Buying social followers: Fiverr aside, wherever you buy social followers, you're really paying for bots. Not only does this look bad if someone does even the most basic investigation into your followers—it's also likely to be a terms of service violation on whatever platform you're buying followers for. This could get your account shut down!
(Probably) anything that costs just $5: Although there are still many gigs that start at $5, it's fair to assume that this is an effort by some sellers to be competitive. Although people in countries with low costs of living can likely justify this pricing, it creates a price war that hurts all freelancers on the platform trying to make a living wage all over the world. Instead of encouraging ridiculously low price floors, vote with your money and buy the next most expensive gig.
Something you need tomorrow: Unless you're dealing with a super responsive seller who offers quick turnaround as a gig extra. If they don't seem to have this process built-in, it's probably fair to assume that they won't deliver high-quality work on a short deadline.
English text from non-native speakers: You'll spend even more time and money to make it sound right. It's just not worth the runaround.
To be fair, Fiverr makes changes to major gig categories when called to.
In 2017, they discontinued product testimonial videos and replaced them with the Video Spokesperson category. This was an effort to appease the FTC, an organization not known to appreciate undisclosed paid relationships between a brand and the person giving a testimonial.
Of course, it can also be said that Fiverr isn't afraid to operate on the fringes of what's considered ethical when they can get away with it, as they currently do with some of the aforementioned gig categories (notably, SEO tasks and buying social followers).
How to Find Good Fiverr Sellers & Gigs
Let's get to the meat and potatoes of how to use Fiverr. Whether or not you're an experienced Fiverr buyer, the following tips can help you to identify good gigs and good sellers who can deliver.
Check Ratings and Reviews.
After every delivery, buyers are prompted to leave a star rating and written review about the delivery. A sheer volume of positive ratings and reviews is a fair indication that you're dealing with someone reliable.
But Fiverr also has their own seller rating system based on multiple factors, such as:
Quick communication
On time delivery
Ratings from buyers
Based on these (and other) factors, Fiverr sellers are categorized in terms of several ascending tiers:
Seller
Level 1 Seller
Level 2 Seller
Top Rated Seller
"Seller" is used to describe those new to Fiverr, while Level 1 and Level 2 can be unlocked by completing multiple orders to satisfaction (among other requirements). Top Rated Sellers are hand-picked by Fiverr based on very strict factors that relate to client communication and satisfaction. It's no easy feat to make it from one level to another, so those with Level 1 status and above can be said to take their work on Fiverr very seriously.
A seller can also gain a "Pro" distinction without necessarily having to mess around with these other tiers (and resulting requirements), based on their perceived success outside of Fiverr.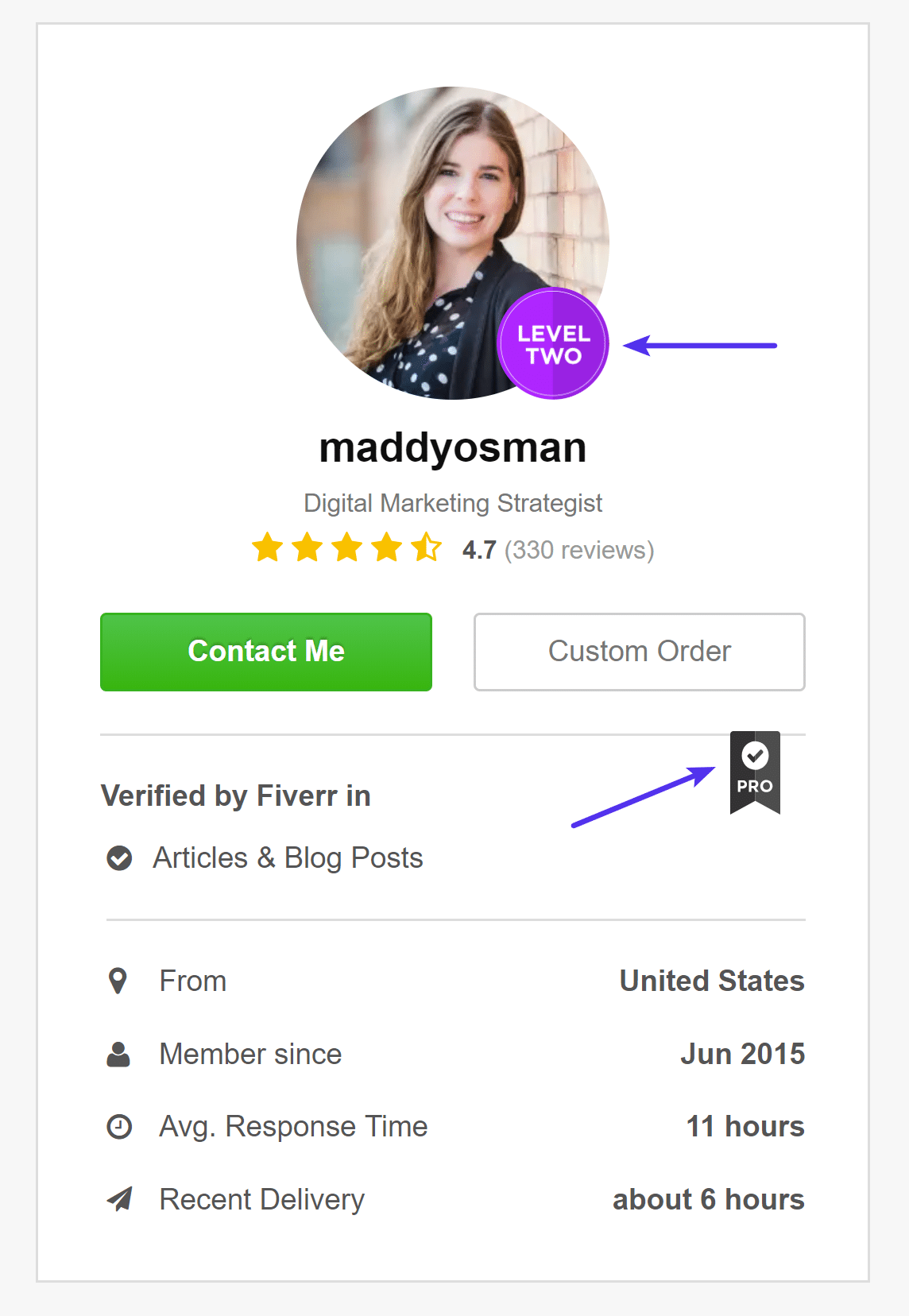 "Audition" Multiple Fiverr Sellers for Ongoing Task Needs
If you want to learn how to use Fiverr for ongoing needs in certain service categories, it makes sense to first test out multiple different sellers who offer similar gigs. Think of this as an investment in the future: it will cost you a little extra on the front-end but pays off when it helps you find the perfect person for the job.
Work with One Person Consistently
As with any services you purchase from a freelancer or company, you gain process improvements the longer you work together. If you treat your relationship with Fiverr sellers as a long-term engagement, they'll take your projects more seriously than buyers who are looking for one-off jobs.
Request a Custom Gig
Besides the standard gigs offered by sellers, you can also ask for custom orders. If you don't have a particular seller in mind—like if you can't find an exact gig for what you're looking for—you can also request a gig that anyone in the marketplace can respond to.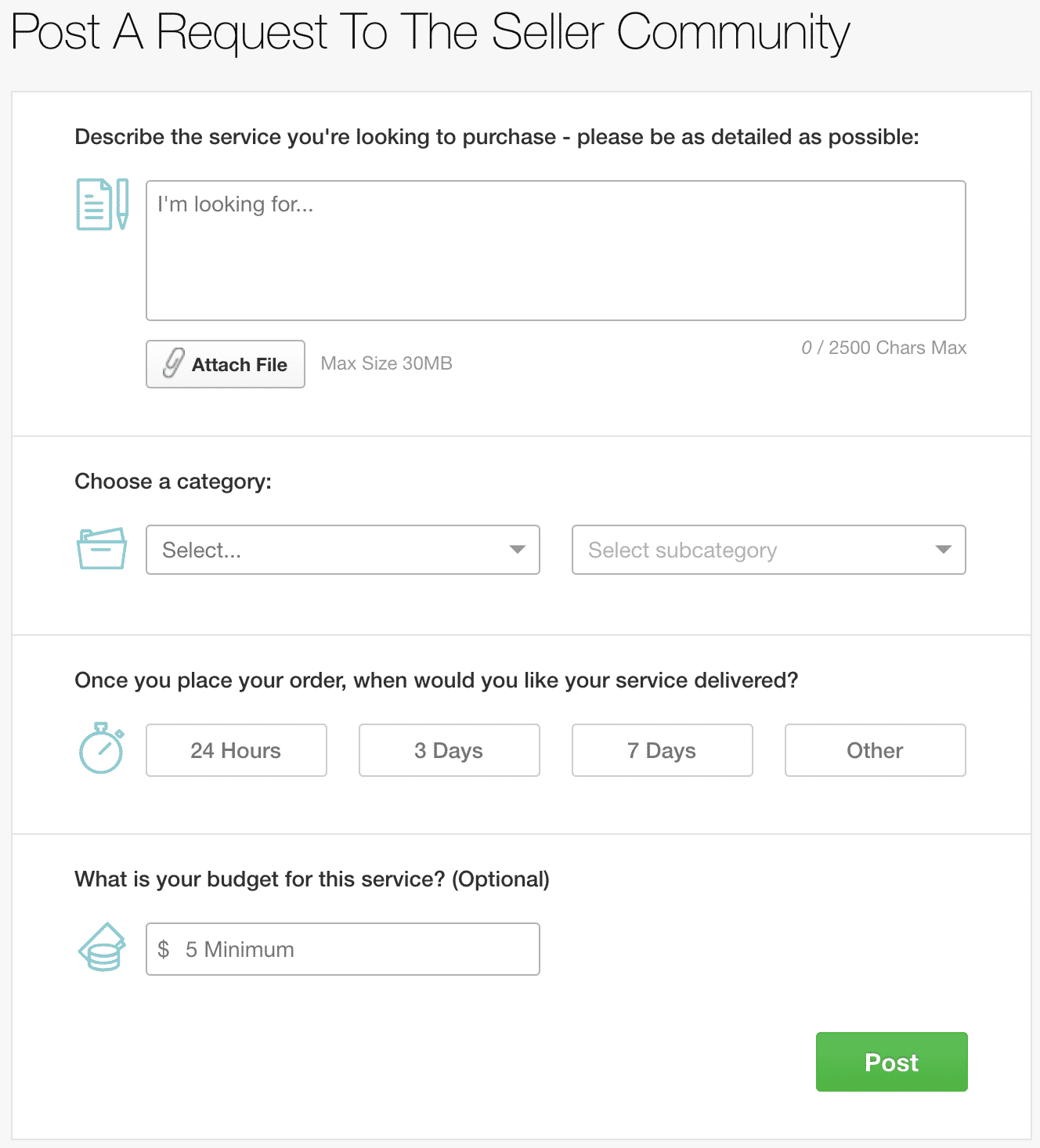 How to Spot Low-Quality Fiverr Gigs
No matter how long you use Fiverr, you will most certainly have a bad experience on the platform.
That's not to say this is Fiverr's fault—you'll find the same issues on just about any platform facilitating a connection on behalf of a buyer to a seller. You just can't know for certain how you'll mesh with that other person until you bite the bullet and work with them.
Here's the good news: as a buyer, you are the priority on Fiverr. I say this with a bit of contention for the times I was dealing with an unreasonable seller and Fiverr automatically took their side. Since I'm now a Pro seller, I get a little more of the benefit of the doubt (and more two-sided support) but still fight my (unfair) share of buyer BS on the platform.
So here's my advice: don't be a bad buyer who screws the person you're buying from over something silly. That said, hold tight on what you require if you've done a good job of detailing your needs from the start and the seller is simply not delivering. In most cases, you'll be able to get a refund if you can't reach an agreement.
Two of the easiest ways to spot low-quality gigs are:
Gigs with no ratings/few ratings: unless you're dealing with an experienced seller who's launching a new gig—check their profile to find out.
A low seller tier rating. The best Fiverr sellers hustle hard to move up the ranks.
Summary
Fiverr offers an awesome platform to commission quality work at affordable prices. With an understanding of what gigs are worth it and how to find high-quality sellers, you're ready to place your first order!
Subscribe Now
10,000 successful online businessmen like to have our content directly delivered to their inbox. Subscribe to our newsletter!
Archive Calendar
Sat
Sun
Mon
Tue
Wed
Thu
Fri

1

2

3

4

5

6

7

8

9

10

11

12

13

14

15

16

17

18

19

20

21

22

23

24

25

26

27

28

29

30

31